Digital works printed on forex, siropan , back lighted film or aluminium. The works are then hot bended and reworked with plexiglas, wire mesh, bolts and several other materials.

The works are series of bodies tracked on themselves more times, deforming the whole or parts, using digital filters, digital simulation of convetional technics (oil painting, brush, pen, etc.) , or sampling.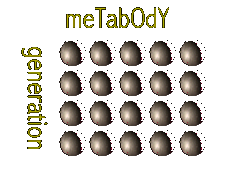 The main series sum up to five works . Every work of the main series is used to draw three more works. The areas of the works belongin to each series, form the first to the fourth, are points of a mathematical non linear function.
The functions constitute the base graphical of the last work : metas